Historic RittenhouseTown now offers a series of 18th and 19th century domestic arts workshops. Join resident artists and historic interpreters to learn quilting, open-hearth cooking, spinning, Scherenschnitte (Pennsylvania German paper cutting) and Fraktur (Pennsylvania German Painted Design). Registration closes the Wednesday before each workshop. Late registrants are accepted at the discretion of the instructor.
---
Learn to Make Yummy Preserves in Our 18th Century Bake House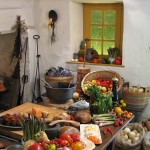 Date and Time: September 9, 10-2, or until we finish.
Registration Fee: $35.00
Registration Deadline: Monday, August 4
REGISTER HERE
Age Requirement: Must be over 10 years old and accompanied by an adult
Participants should bring:
An apron, 2 dish towels, a sharp knife, disposable containers to bring goodies home in. Please wear comfortable clothing.  Bring your camera and a lunch.
Description: Food preservation was of extreme importance in colonial times.  There were no local grocery stores to get the foods you needed back then, so you had to make sure that you preserved foods for the lean months. We will preserve appropriate seasonal foods. Receipts (recipes) will be provided and samples to be taken home.
---
Past Workshops: 2017
Intro to Quilting: March 18
Intro to Open Hearth Cooking: April 1
Beginner Spinning with a Drop Spindle: May 13
Scherenschnitte: PA German Decorative Paper-Cutting: June 10th
Intro to Fraktur—PA German Painted Designs: June 17