Birthday Parties And Private Workshops Are Now Available
Looking for a unique party or retreat experience? Historic RittenhouseTown now offers private paper arts workshops for children and adults. 
Children's Parties
Children ages 6-12 will work with our resident paper artist to make 1-2 pieces of handmade paper. Parties can be booked on weekdays or weekends. A typical paper making session lasts up to one hour. Guests may use the paper making studio's adjacent picnic area for an additional hour. Outside food and non-alcoholic drinks are welcome.
Fee: $100 event fee plus $10 per child. A minimum of five children is required. If the minimum is not met, a flat rate of $50 will be charged in addition to the event fee.
Paper Making: Adult
Enjoy wine and snacks with your group while learning to make paper. Your paper can be used for place cards, baby announcements or thank you notes. This private, two-hour weekday or weekend workshop is perfect for birthdays. showers or a friends' day out.  Guests may use the paper making studio's adjacent picnic area for an additional hour. Wine and snacks will be provided. Outside food is also welcome.
Fee: $200 for the first five participants plus $10 for each additional participant.
Bookbinding: Adult
Using original colorful papers made by Paper Artist Cozy Bendesky or your own papers brought from home, make books ready to hold sketches, memories or signatures. Each participant will learn book sewing techniques to build an original journal and prepare pages for journaling. This three-hour workshop can be booked on a weekday or weekend.

Fee: $260 fee for the first five participants. $24 for each additional participant. 
Work Retreats
Step out of the office and into history. Rent space at RittenhouseTown for your next work retreat and add a one-hour paper making experience for an additional fee of $75 .
Contact us today to book your private party, workshop or retreat.
Meet Our Instructor: Paper maker Cozy Bendesky, M. Ed brings a rich appreciation of paper making and book making techniques to our staff. She marries her love of 18th century history and knowledge of ancient and modern fiber art techniques to create both original fine art journals and museum quality reproduction clothing and furnishings, most recently recreating complete room furnishings for a historic house museum in New York City.
Since 1996 Cozy has travelled all over the US teaching surface design techniques to adults and has worked for both public and private schools in the Philadelphia area since 2005.  
---
Paper from Plants
Saturday, August 26: 10AM-1PM
Learn which plants in your yard make great paper! The process of preparing plant material is covered as well as techniques to make your own plant paper. Take home your own handmade sheets of plant fiber paper.
Registration Fee: Members $39, Nonmembers $49
REGISTER
---
Open Vats Guided Paper Making
Sunday, August 27: 10AM-1PM
This workshop includes access to RittenhouseTown's paper making studio and prepared paper pulp. The Resident Paper Maker will be on hand to answer questions although no formal class will be taught.
Registration Fee: Members $29, Nonmembers $39
REGISTER
---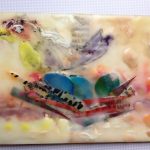 Encaustic Collage
Sunday, September 10: 10AM-1PM
Paint with beeswax and build shimmering layers of color using papers, colored waxes and pigment. Use this ancient technique on two small pieces and learn new techniques and how to use tools to build layers.
Registration Fee: Members $59, Nonmembers $69
Materials Fee: $12 payable to instructor on the day of the workshop (cash or check)
REGISTER
---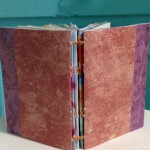 Simple Bookbinding
Sunday, October 15: 6PM-9PM
Working with all kinds of paper, we will make 3 kinds of folded, glued and stitched books. Materials and adhesives will be discussed. Beginners will go home with skills to make books at home with no special equipment.
Registration Fee: $49
Materials Fee: $12 payable to instructor on the day of the workshop (cash or check)
REGISTER
---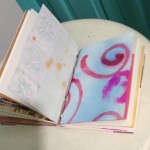 Create a Keepsake Art Book
Saturday, November 5: 10AM-1PM
Using original colorful papers made by Paper Artist Cozy Bendesky or your own papers brought from home, make books ready to hold sketches, memories or signatures. Each participant will learn book sewing techniques to build an original journal and prepare pages for journaling.
Registration Fee: Members $49, Nonmembers $39
Materials Fee: $12 payable to instructor on the day of the workshop (cash or check)
REGISTER
---
Open Vats Guided Paper Making
Tuesday, November 14: 6PM-9PM
This workshop includes access to RittenhouseTown's paper making studio and prepared paper pulp. The Resident Paper maker will be on hand to answer questions although no formal class will be taught.
Registration Fee: Members $29, Nonmembers $39
REGISTER
---
Past Workshops: 2017
Valentine Card Making: February 12
Create a Keepsake Art Book: February 25
St. Patrick's Day Card Making: March 11
Paste Papers: April 2
Open Vats Guided Paper Making: April 9
Mother's Day Card Making: May 13
Simple Bookbinding: May 27
Father's Day Card Making: June 11
18th Century-Style Journal Making: July 1
Making Paper With Seeds, Leaves and Flower Petals: July 9
18th Century-Style Journal Making: August 14