SPECIAL EXHIBIT: DAVID RITTENHOUSE, THROUGH THE FOUNDERS' LENS
The exhibit is also open for weekday group tours thru Spring 2017. Tours can be booked through our education program. Select the Historic Tour option for access to the exhibit and a full tour of RittenhouseTown. Add paper making or colonial cooking for a complete experience.
David Rittenhouse was highly regarded by the Founding Fathers. His works as astronomer, surveyor, maker of models of the solar system, treasurer of the state of Pennsylvania all inspired respect and admiration among the group of legislators which gathered periodically in Philadelphia. The June 2016 opening of the exhibit profiles Rittenhouse's special relationship with Thomas Jefferson, as discussed by historian Ron Landa.
The man born in the Homestead at RittenhouseTown went on to map the wilderness of a new nation, explain phenomena in the heavens, and confer with the Franklin, Jefferson, Washington and Madison. David Rittenhouse was humble yet brilliant, a scholar and a technician, a self-taught educator of educators, an entrepreneur and public servant.  By the time of his death, he had become the new nation's favorite example of what Americans could contribute to the Enlightenment.
A new exhibit in the Homestead illustrates Rittenhouse's accomplishments with instruments of his own making, with books he held in his hands and papers signed by his pen. This was his home. This was his life. His decades-long dialogue with Thomas Jefferson is captured.
Exhibit compiled and interpreted by Susan Bockius on an exhibit structure created by Myles Pettengill.
 Paper-Mill-Run-5K-Race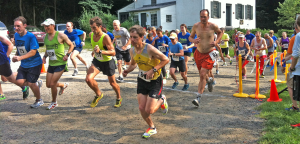 For 26 years Historic RittenhouseTown's Paper Mill Run 5K Race has been held on the first Saturday after Labor Day. Unfortunately there will be no race this year due to construction on the Walnut Lane Bridge. The race route follows Forbidden Drive, a paved path that passes beneath the Bridge. Though the Drive remains open, we feel that the somewhat obstructed path is too narrow to safely accommodate our runners. The race will return in 2017.