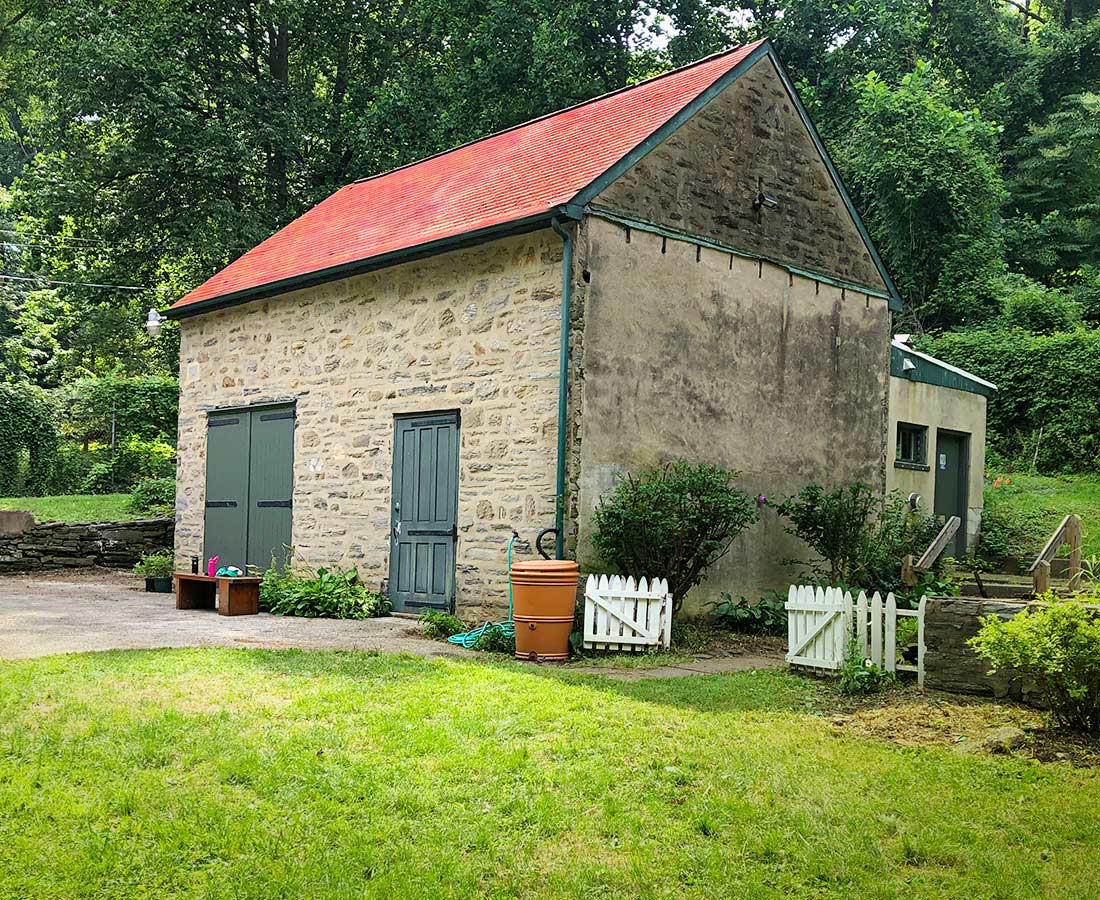 Built of local stone, the original Rittenhouse barn located on this site was recorded in the 1798 Direct Tax List as belonging to Margaret (-1817), widow of William Rittenhouse (1720-1793). The barn is probably associated with the nearby Rittenhouse home — #210 which dates from 1750 — as it was Margaret's home in 1798 until her death in 1817.
The afformentioned William was the great-grandson of William and Gertrude Rittenhouse who, with their three children, settled in Germantown around 1690. By the end of that year their paper mill, the first in America, was producing paper for printers in Germantown. It would continue in operation for over 150 years.
As part of the Roosevelt Administration's New Deal initiative, the Works Progress Administration provided employment for out of work architects, engineers, masons and carpenters during the Great Depression. One of many projects completed in Fairmount Park, the WPA oversaw the demolition of the earlier barn and the construction of the present barn in 1938. A damaged WPA drawing from 1937 illustrates what the original barn looked like. Surviving architectural drawings by WPA architect, Curtis Seibert, who drew the plans for the barn as it was built in 1938, also shed light on the original structure. Taking its name from the road which ran to the west of the structure, the overall plan for the Pabst Lane Shelter is very similar and demonstrates Seibert's desire to recreate the failing structure without drastically changing the design as he sought to adapt the barn to meet the needs of the modern park. Both barns are organized into three parts with a loft area and are built into the hillside in typical bank barn style. His design included areas for stables, a tool room and storage shed.
An added chimney likely reflects its use as a shelter. The storage shed no longer existed by the mid-1980s, though there is physical evidence of it on the barn to this day. These service bays are also gone but the foundations survive. For the next forty years, the Barn served as a maintenance area for Fairmount Park vehicles.
In the 1990's, Historic Rittenhouse Town assumed control of the building and restored it.  Today it houses the Paper Studio and the offices of the Wissahickon Restoration Volunteers.